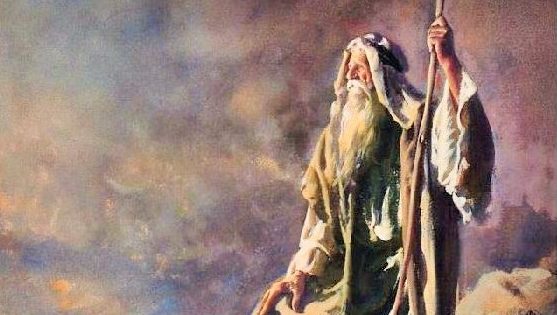 This D'var Torah is in Z'chus L'Ilui Nishmas my sister Kayla Rus Bas Bunim Tuvia A"H, my grandfather Dovid Tzvi Ben Yosef Yochanan A"H,  & my great aunt Rivkah Sorah Bas Zev Yehuda HaKohein in Z'chus L'Refuah Shileimah for:
-My father Bunim Tuvia Ben Channa Freidel
-My grandmothers Channah Freidel Bas Sarah, and Shulamis Bas Etta
-Miriam Liba Bas Devora
-Aharon Ben Fruma
-And all of the Cholei Yisrael
-It should also be a Z'chus for an Aliyah of the holy Neshamah of Dovid Avraham Ben Chiya Kehas—R' Dovid Winiarz ZT"L as well as the Neshamos of those whose lives were taken in terror attacks (Hashem Yikom Damam), and a Z'chus for success for Tzaha"l as well as the rest of Am Yisrael, in Eretz Yisrael and in the Galus.
בס"ד
בְּהַעֲלֹתְךָ  ~ B'Ha'alosecha 
"He's the Greatest, the Most Humble…and He Knows it"
מְאֹ֑ד מִכֹּל֙ הָֽאָדָ֔ם אֲשֶׁ֖ר עַל־פְּנֵ֥י הָאֲדָמָֽה׃ (ס)" occurrence="1″]
and He said, "Listen to My words: When a prophet of Hashem arises among you, I make Myself known to him in a vision, I speak with him in a dream.
Not so with My servant Moshe; he is trusted throughout My household.
With him I speak mouth to mouth, plainly and not in riddles, and he beholds the likeness of Hashem. How then did you not fear from speaking against My servant, against Moshe!"
וַיֹּ֖אמֶר שִׁמְעוּ־נָ֣א דְבָרָ֑י אִם־יִֽהְיֶה֙ נְבִ֣יאֲכֶ֔ם ה׳ בַּמַּרְאָה֙ אֵלָ֣יו אֶתְוַדָּ֔ע בַּחֲל֖וֹם אֲדַבֶּר־בּֽוֹ׃
לֹא־כֵ֖ן עַבְדִּ֣י מֹשֶׁ֑ה בְּכָל־בֵּיתִ֖י נֶאֱמָ֥ן הֽוּא׃
פֶּ֣ה אֶל־פֶּ֞ה אֲדַבֶּר־בּ֗וֹ וּמַרְאֶה֙ וְלֹ֣א בְחִידֹ֔ת וּתְמֻנַ֥ת ה׳ יַבִּ֑יט וּמַדּ֙וּעַ֙ לֹ֣א יְרֵאתֶ֔ם לְדַבֵּ֖ר בְּעַבְדִּ֥י בְמֹשֶֽׁה׃
and He said, "Listen to My words: When a prophet of Hashem arises among you, I make Myself known to him in a vision, I speak with him in a dream.
Not so with My servant Moshe; he is trusted throughout My household.
With him I speak mouth to mouth, plainly and not in riddles, and he beholds the likeness of Hashem. How then did you not fear from speaking against My servant, against Moshe!"
וַיֹּ֖אמֶר שִׁמְעוּ־נָ֣א דְבָרָ֑י אִם־יִֽהְיֶה֙ נְבִ֣יאֲכֶ֔ם ה׳ בַּמַּרְאָה֙ אֵלָ֣יו אֶתְוַדָּ֔ע בַּחֲל֖וֹם אֲדַבֶּר־בּֽוֹ׃
לֹא־כֵ֖ן עַבְדִּ֣י מֹשֶׁ֑ה בְּכָל־בֵּיתִ֖י נֶאֱמָ֥ן הֽוּא׃
פֶּ֣ה אֶל־פֶּ֞ה אֲדַבֶּר־בּ֗וֹ וּמַרְאֶה֙ וְלֹ֣א בְחִידֹ֔ת וּתְמֻנַ֥ת ה׳ יַבִּ֑יט וּמַדּ֙וּעַ֙ לֹ֣א יְרֵאתֶ֔ם לְדַבֵּ֖ר בְּעַבְדִּ֥י בְמֹשֶֽׁה׃
Numbers.12.6-8
Towards the end of B'Ha'alosecha, amidst a handful of unpleasant events, we have Miriam's slandering of Moshe Rabbeinu to their brother Aharon [B'Midbar 12:1-16]. Although what exactly the slander was about is not entirely clear, from the simple text, we know that it involved Moshe's wife and that it challenged the notion that Moshe was unique among Nevi'im (prophets).
Rashi among others join with Chazzal [Sifrei 99; Tanchuma, Tzav 13] in reading between the lines to explain exactly what it was that Miriam took issue with. The narrative suggested by most traditional M'forshim is that Moshe Rabbeinu had "separated" from his wife and that his reasoning had everything to do with his exalted role as Hashem's go-to Navi. Because Moshe was constantly engaged in prophetic discussion with Hashem, he had to refrain from becoming ritually impure through conjugal relations (*See R' Shimshon Raphael Hirsch's commentary for a fascinating and sound textual analysis of the passage).
As far as Miriam was concerned, Moshe in way over his head in his perception of his status, and his wife was suffering from his absence as a result. Yes, Moshe was a prophet, however, Miriam argued, "…HaRak Ach B'Moshe Diber Hashem Halo Gam Banu Dibeir?…"-"…Is it only with Moshe that Hashem speaks? Is it not also with us that He speaks?…" [12:2]. "We're also prophets," she told Aharon, "Yet, we realize that we're still human and we therefore still live with our spouses. Why does Moshe think he is so much greater?"
This is the argument, at least simplified. The problem, though, is that apparently, she was wrong, and Hashem calls her out for that.
In response to Miriam's slander, the Torah tells us two things. Firstly [12:3], "V'HaIsh Moshe Anav Me'od M'Kol HaAdam Asheir Al P'nei HaAdamah"-"Now, the man, Moshe, was [actually] exceedingly humble, more than every [other] man on the face of the earth."
This information would seem to be the response to Miriam's implicit assertion that Moshe was possibly haughty or arrogant, that he thought he was greater than he really was. "In fact," the Torah counters, "Moshe was the most humble man in the world."
Then, a few verses later, Hashem speaks up with a separate argument [12:6-8], "…Im Yihiyeh Neviachem Hashem BaMar'ah Eilav Esvada BaChalom Adaber Bo; Lo Chein Avdi Moshe…Peh El Peh Adaber Bo U'Mar'eh V'Lo V'Chidos U'Semunas Hashem Yabit U'Madu'a Lo Yireisem L'Dabeir B'Avdi V'Moshe?"-"…if there shall [indeed] be among you [such] prophets, in a vision I, Hashem, will make Myself known to him; in a dream I shall speak with him. Such is not so of Moshe My servant…Mouth to mouth I shall speak with him, and in a [full] vision and not in riddles, and the image of Hashem he gazes. And [so], why did you not fear to speak against My servant, and against Moshe?"
With this argument, Miriam is completely shut down. In essence, Hashem is telling Miriam, that indeed, that Moshe is every bit as great as he makes himself out to be! Moshe was apparently on such a holy level that he, rightfully so, had to part from his wife, as difficult, counterintuitive, and as harsh as that may seem.
Here's the problem: Between these two responses to Miriam's allegations, Hashem only actually vocalizes this second one, that indeed, Moshe was on different prophetic caliber than Miriam, in fact, there was no greater prophet than Moshe. The earlier argument about Moshe also being the most humble man on earth, Hashem did not explicitly make to Miriam in the dialogue. Hashem only inserted that information as the Divine Narrator, almost as if to say, "By the way, for those reading at home: Moshe happened to be the most humble man on earth."
The question is that if it's true that Miriam was even implicitly accusing Moshe of any self-aggrandizement, should Hashem not use this argument, that of course not, Moshe was the most humble man? Yes, the other point about Moshe's greatness is an important point too, but should this information not also be a part of Hashem's rebuke to Miriam for her accusation? Why did Hashem not use this additional argument? And if it wasn't worth mentioning in His conversation with Miriam, why bother mentioning it at all?
But, there is another issue here. Between the Torah's two confirmed praises of Moshe, (1) that he was the most humble man, and (2) that he was the greatest prophet, at first glance, there seems to almost be a tension. Naturally, we'd argue that in simple terms, greatness assumes highness while humility would seem to imply lowliness.
Now, it could be that it's not so complicated after all. One might suggest that really, Moshe could not truly be the greatest without first being the most humble, that being as humble as Moshe was, was a prerequisite for him to reach his level of greatness. So, in the end, because Moshe was so humble, he was so great. In that case, there would certainly be no contradiction between these two accomplishments of Moshe's.
One might even argue further that for Moshe to be both the greatest and the most humble at the same time is really not so hard, because, as per his humility, Moshe perhaps never really thought of himself as being as great as he really was. So, while, yes, he was great, yet, at the same time, he was so humble so as to not even be aware of his own greatness. This much, however, is absolutely not correct!
We know, as a fact, that Moshe knew very well how great he was. We know this because Moshe himself made the decision to separate from his wife because, he knew, he was Hashem's main Navi! And either way, at some point, Moshe Rabbeinu had to attest to his own praises as he, by Hashem's undeniable word, wrote his own praises down in the Torah! Moshe, under G-d's instruction, authored the Torah, so that means that Moshe had to also handwrite these factual descriptions of his greatness and humility in the Torah for generations to see until the end of time! What this means is that Moshe Rabbeinu was not just both the most humble and greatest man, but he knew it! He didn't deny it or try to argue otherwise!
So, how does that work? Even if we can argue that being the greatest and being the most humble is not a contradiction, does having such clear recognition of one's personal greatness not fly in the face of one's humility?
Returning to the original question, why Hashem answered Miriam with the second argument that Moshe "was just that great," without mentioning the first argument that Moshe was actually the most humble man, perhaps we could suggest that really, Hashem primarily intended to address Miriam's main argument which was that Moshe was no greater than a regular Navi. She challenged: "We are also Nevi'im. Moshe is no different." Hashem says: "No. Moshe is different, and therefore he acted the way he did."
The idea that Miriam was suggesting that Moshe thought he was greater than he was, was certainly implied. But, what Hashem confirms when He corrects her, is not only that Moshe was really on such a high level, but that really, Moshe was quite accurate in his self-evaluation. Hashem implies that Moshe did not think that he was any greater than he was. In fact, he knew exactly how great he was! That is what Hashem responded verbally. That again, if the allegation against Moshe was that Moshe was not self-aware, that he was not in touch with his personal spiritual level, Hashem debunked that theory by testifying that, no, Moshe acted the way he did because he was that great and knew it.
Now, how about the argument to Moshe's unmatched humility? Why didn't Hashem convey this part to Miriam?
The answer to this question entails our answering a larger question regarding what it is that Anivus really means. We commonly think of Anivus in terms of its common English translation, humility, which connotes lowliness. Interestingly enough, the English word "humble" comes from the Latin words "humus," which means ground, and "humilis" which means lowly. We might even suggest that both of those roots may be related to the English word "human" which also has Latin roots. If that's true, humility might really means humanity—having a sense of one's humanity, understanding that one is still a fallible human. And much of this might even be true. Thus, Moshe was described as "Anav Me'od M'Kol HaAdam Asheir Al P'nei HaAdamah"-"exceedingly humble, more than every [other] man on the face of the earth," so that regardless of Moshe's status, he was still in touch with his humanity and earthliness. Thus, we find a similar relationship, in the earlier Hebrew language, between "HaAdam," man, "Al P'nei HaAdamah"-"face of the earth." Thus, for Moshe to be an Anav would have to mean that he was aware his earthliness.
But, if Hashem conveyed this bit to Miriam, we might've mistaken the truer definition of Anivus. Because, apparently, Anivus goes way further than that. Real Anivus does not mean denying your spiritual heights or your level of greatness in attempt to acknowledge one's own earthliness. While yes, humility means not thinking too highly of oneself, real humility does not mean that one should necessarily have low opinion of oneself. Anivus means, not thinking, but actually knowing the true height of one's spiritual excellence and greatness, yet carrying oneself in a genuinely modest way, nonetheless. It means being able to be intellectually self-aware and acknowledge one's greatness, yet, not letting that very real, noted greatness get to one's head. It means being able to appropriately live up one's possibly superhuman greatness, yet at the same time, remain aware of his humanity all the while, and knowing how to balance the two.
All of the above should explain why Hashem didn't need to convey to Miriam that Moshe was an Anav M'Kol Adam. Because, by telling her that Moshe was every bit as great as he made himself out to be through his actions, that Moshe is totally self-aware, Hashem has already made the case, not just for Moshe's simple humility, but his real Anivus, which means looking one's greatness in the face, fulfilling one's holy obligations, and still doing so in a modest way.
If that is true, that real Anivus is characterized by self-awareness, why did the Torah need to say separately that Moshe was such an Anav?
Perhaps because so many people make the mistake in thinking that knowing one's own greatness directly clashes with Anivus, humility, yet it doesn't! The two realities are not mutually exclusive! Because this mistake is natural, the Torah needed to tell us that yes, despite Moshe's clear knowledge of his greatness, and perhaps really because of it, he was the most humble of all men.
But this point is so poignant, the necessity of self-awareness in real humility, because even Moshe himself made this mistake of thinking that the two clashed! When? When he initially refused to return to Egypt to become the glorious savior of the B'nei Yisrael when negotiating with G-d at the Burning Bush [Shemos 3-4]. There, Moshe was charged with a task that would undoubtedly mark his greatness. But, Moshe thought, that out of his humility, he must deny the greatness being offered to him. He refused to acknowledge the greatness which G-d credited him with by even selecting him for the job! And as a result, he attempted to turn down the responsibilities which his personal greatness actually demanded of him, which G-d demanded of him! The Torah says that that angered G-d, because in fact, Moshe had missed this point of real Anivus! And if Moshe made the same mistake here, he probably would not have separated from his wife, because that's unearthly, it's not humble. Had he done that, he would have been wrong.
Because again, real Anivus does not mean suppressing one's true level of greatness and passing up holy obligations, but it means remaining pure and responsible to one's obligations while being fully conscious one's greatness. Thus, before presenting to us just how great Moshe was, and more, how aware he was of that greatness, the Divine Narrator tells us that, indeed, Moshe was the most humble man on earth, that no one should be mistaken by Moshe's knowledge of his undeniable greatness. He was truly humble all the while.
May we all be Zocheh to become as spiritually great as we can possibly be, yet remain true Anavim all the way through, and hopefully soon, Yagiya Z'man Geulas'cheinu, the era of our Geulah will arrive, B'Sha'ah SheMelech HaMoshiach Ba—in the days of Moshiach—Bimheirah Biyomeinu! Have a Great Shabbos!
-Josh, Yehoshua Shmuel Eisenberg 🙂