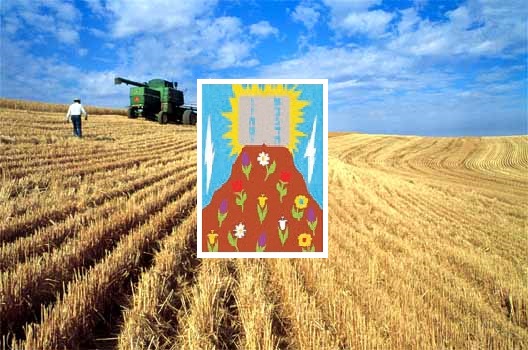 This D'var Torah is in Z'chus L'Ilui Nishmas my sister Kayla Rus Bas Bunim Tuvia A"H, my grandfather Dovid Tzvi Ben Yosef Yochanan A"H,  & my great aunt Rivkah Sorah Bas Zev Yehuda HaKohein in Z'chus L'Refuah Shileimah for:
-My father Bunim Tuvia Ben Channa Freidel
-My grandmothers Channah Freidel Bas Sarah, and Shulamis Bas Etta
-Miriam Liba Bas Devora
-Aharon Ben Fruma
-And all of the Cholei Yisrael
-It should also be a Z'chus for an Aliyah of the holy Neshamah of Dovid Avraham Ben Chiya Kehas—R' Dovid Winiarz ZT"L as well as the Neshamos of those whose lives were taken in terror attacks (Hashem Yikom Damam), and a Z'chus for success for Tzaha"l as well as the rest of Am Yisrael, in Eretz Yisrael and in the Galus.
בס"ד
בְּהַר-בְּחֻקֹּתַי ~ B'Har-B'Chukosai
"Casualness or Contempt"
     The end of Sefer Vayikra supposedly focuses on the topic of Sh'mitah, or the Sabbatical year of the land. While this notion is certainly the case for Parshas B'Har where all of the rules and regulations of Sh'mitah are described in great detail, concerning Parshas B'Chukosai however, the relevance of Sh'mitah is not immediately obvious.
At first glance, Parshas B'Chukosai contains a broader warning to the B'nei Yisrael—that they need to faithfully observe the Torah at large. "Im B'Chukosai Teileichu V'Es Mitzvosai Tishmoru Va'asisem Osam…"-"If you will follow my decrees and observe my commandments and perform them…" [Vayikra 26:3]. It is pretty basic and overarching. Thus, it would seem as though the frightening passage of curses, known as the Tochachah (Admonition), is a response to a general lack of adherence to the Torah.
However, at the end of the Tochachah, the Torah reveals a few times that apparently, the problem the whole time was really a neglect of Sh'mitah. For example, after Tochachah describes the exiling of the B'nei Yisrael from their land, the Torah declares [26:34-35], "Az Tirtzeh HaAretz Es Shabsosehah Kol Yimei Hashamah…Tishbos Eis Asher Lo Shavsah B'Shabsoseichem B'Shivtechem Alehah"-"Then, the land will appease is Sabbatical all the days of its desolation…it will rest that which it did not rest during your Sabbaticals when you dwelled in it." Also, soon after, the Torah writes [26:43] "V'HaAretz Tei'azeiv Meihem V'Siretz Es Shabsosehah…"-"And the land will be bereft of them and it will appease its Sabbatical…"
The question though is that if the Tochachah was really intended to be a response to Sh'mitah neglect, then why didn't the Torah just say that outright from the outset? The text of the Tochachah seems to make it about general Torah neglect. Is the Tochachah maybe just a response to both? But, if the Tochachah is really meant to address Sh'mitah and Torah observance in general, then Sh'mitah should not have had to be mentioned at all as Sh'mitah certainly falls under the rubric of Torah observance as it is a Mitzvah in the Torah. So, why mention the appeasement for the missed Sabbatical years?
But, there's another issue. Aside from there being seemingly mixed messages as to what crime exactly the Tochachah is targeting, neglect of Sh'mitah or the Torah at large, at first glance, there also seems to be mixed messages as to which character flaw or fundamental attitude it is that the Tochachah is targeting. Let's elaborate.
B'Chukosai begins, as we cited above, describing what will be should we "walk" in Hashem's "statutes." If we do, a lot of wonderful things will happen. Then, the Torah transitions to the negative, the "Tochachah," where all the not so wonderful things are described. What exactly is it that triggers the negative response from G-d? Well, if it was "walking in the statutes" and observing the Torah that earn us a positive response, we would assume that by simply not walking in the statutes—merely neglecting to observe the Torah properly, G-d forbid—we merit the negative response. At least that's what we would think. However, when we look at the introduction to the Tochachah, although some of what we just mentioned is included, the Torah says a little more.
"V'Im Lo Sishm'u Li V'Lo Sa'asu Eis Kal HaMitzvos HaEileh; V'Im B'Chukosai Timasu V'Im Es Mishpatai Tig'al Nafshechem L'Vilti Asos Es Kal Mitzvosai L'Hafrechem Es Brisi"-"And if you do not listen to Me, and if you do not perform these commandments; and if you shall have contempt against My decrees, and if My ordinances your soul shall reject so as not to perform all of My commandments and to (ultimately) annul My covenant" [26:14-15].
Indeed, the Torah presents the negative in a far more extreme way. Before, the Torah said "Im B'Chukosai Teileichu"-"If you will walk with My decrees," and so, just when we're expecting the reverse parallel of walking in the decrees, the Torah chooses a different expression. It does not say "Im B'Chukosai Lo Seileichu…"-"And if in My decrees you will not walk…," but rather, it says, "V'Im B'Chukosai Timasu…"-"And if you will have contempt against" or "…if you will be disdainful against My decrees…"
Now, the introduction to this verse which simply mentions not listening to Hashem and not performing the commandments is understandable. It is closer to what we were expecting the Torah to say as it is basically the opposite of the positive which was to fulfill G-d's commandments. The immediate opposite would be simple neglect of the commandments. But the point of having disgust is way on the other end. So, how did we get to talking about this extreme and seemingly less probably level of having contempt for Hashem's decrees? It's not like the opposite of walking according to decrees is having disgust for them. Just because a person may neglect the decrees should not necessarily determine that he disdains them, should it?
Another problem which this textual incongruence presents is that it makes it unclear which attitude really causes the Tochachah. Is the Tochachah responding to mere neglect or disdain of the commandments? The two are certainly not the same, for as was mentioned, just because you neglect something does not mean you have disdain for it. Just because you forgot to pack your lunch does not mean that you think your lunch is disgusting. Does the Torah mean to say that it is the combination of these two things that causes the Tochachah? That would be difficult to say, because if one thinks about it, neglect and disdain are almost opposite concepts. Simple neglect just comes from casualness, nonchalance. It is nothing personal. There is nothing repulsive. It is just a matter of a lack of concern. It is not a vicious attack against anything. However, to ascribe Mi'us, disgustingness, to Hashem's decrees, or to have contempt for them, means to have a passionate hatred for. It is basically the opposite of casualness. So, it would seem that casualness and contempt are mutually exclusive, yet, if one looks throughout the Tochachah, it seems that both of these concepts are highlighted.
Just in the introduction to the Tochachah, we already mentioned both the casual neglect of the commandments and the contempt for the decrees. But, there is more. As the Tochachah unfolds, the Torah warns the recipients of the Tochachah several times about the danger of having a casual response to the punishment.
For example [26:21], "V'Im Teilchu Imi Keri…"-"And if you will walk with Me in a happenstance (casual) way…" (Interestingly, this verse actually utilizes the verb of "walking" which also parallels "Im B'Chukosai Teileichu"-"If you will walk in My decrees.") Additionally [26:23], "V'Im B'Eileh Lo Sivasru Li V'Halachtem Imi Keri"-"And if with (despite) these, you will (still) not (allow yourself to) be chastised by Me, and you will (continue to) walk with Me in a happenstance way…" And from here, the Torah continues to warn us not treat the matter lightly, or with "Keri," "casualness."
So while it seems that it was the attitude of "Keri," carefree, casual neglect, that triggers the Tochachah, the Torah highlights the seeming opposite and extreme level of "Mi'us"—having contempt for the commandments. So, which was is it, casualness or contempt?
Coming back to the original question as to why the Tochachah seems to have a dual focus, Sh'mitah on the one hand and general Torah observance on the other, we might understand the Torah's intentions if we revisit an old question that Rashi addresses back in Parshas B'Har when the Torah had begun its discussion of Sh'mitah.
There, the Torah writes [25:1], "Vayidabeir Hashem El Moshe B'Har Sinai Leimor"-"And Hashem spoke to Moshe at Har Sinai saying." The question Rashi essentially asks is why the Torah specifies only here, with regard to Sh'mitah, that Hashem spoke to Moshe at Har Sinai, if really, all of the Mitzvos were given over at Sinai?
In response, Rashi following the Toras Kohanim suggests that the Torah is trying to tell us that just as Sh'mitah and all of its details were conveyed at Har Sinai, so too, all of the other Mitzvos and their details were conveyed at Har Sinai. This answer as it is should strike one as troubling, because if one thinks about it, most people would not reach this seemingly outrageous conclusion, that just because regarding one Mitzvah, we're told that it and its details were given over at Sinai, that that means all of the others were as well. According to the scientific method, we cannot just choose to compare all cases to the one marginal case study, so if anything, we would not assume that Sh'mitah is the "Binyan Av" or the model for other Mitzvos, but we'd in fact assume that Sh'mitah is actually a Chiddush (novelty) or the exception to the rule. How, then, could we go off on a limb and attempt to derive a rule about all of the other Mitzvos from the possibly unique Mitzvah of Sh'mitah?
Unless, of course, there is something fundamental about Sh'mitah that makes it the clear and obvious representative or "caricature" of other Mitzvos. If we can demonstrate that Sh'mitah is a reasonable icon of all Mitzvos, then we can have a conversation. Then, we could see exactly where Rashi is coming from.
So, what is Sh'mitah? It is a Sabbatical of the land that occurs every seven years on the agricultural calendar during which time the B'nei Yisrael must leave their land fallow and refrain from cultivating it for produce. What is the objective of Sh'mitah? It is a daunting test and a major sacrificing of our comfort zone for a higher will. There is a fear in not knowing for certain where one's sustenance will come from, and whether or not one's needs will be met. As such, Sh'mitah, like a magnified version of Shabbos, challenges a person to put himself into that position so that he realizes that really, the world is Hashem's and all of his needs are in Hashem's hands. It challenges a person to realize that life as he knows it depends on his relationship with Hashem and his observance of Hashem's Torah. In this kind of way, Sh'mitah is actually a representative, a model for all Mitzvos. In this kind of way, observance of Sh'mitah is actually one with the idea of "walking in the decrees" of Hashem, and a model for Torah observance at large.
So, back to the question: Which crime is the Tochachah responding to, neglect of Sh'mitah or Torah observance at large? Apparently, it's all one in the same. Sh'mitah is a larger scale litmus test for the sacrifices we're called upon to make every second of our lives for the sake of Ratzon Hashem (the Will of Hashem), for the sake of Torah. Moreover, Torah observance is our mandatory, lifelong Sabbatical—from doing whatever it is that we would like to do—in pursuit of fulfilling Ratzon Hashem, that which we ought to do. Failure to live up that standard, G-d forbid, triggers the Tochachah.
Now, what about the second question? As far as the basis for our theoretical lack of observance of Hashem's Will, we argued that the Torah seems to describe two quite different attitudes towards Torah which we've decided to call "Keri" and "Mi'us," the concepts of casualness and contempt. Which one really causes the Tochachah? Casual neglect of Hashem's commandments or disgust for His decrees? And can it really be both if casualness means indifference while disgust means vehement abhorrence? How can we be both indifferent yet passionately opposed?
To answer this question, we could actually suggest a few different possibilities. For one, Rashi here [to 26:14-15], also based on the Toras Kohanim, basically suggests that the Torah is warning us about a potential progression, that while yes, it really begins with simple neglect of the Torah, but eventually, after so much casual neglect, Mitzvah after Mitzvah, one eventually comes to despise the Torah, relating to it with disgust. This reality can be explained based on the concept of cognitive dissonance which suggests that we shape our attitudes based on our behavior, so that if we've made a habit of not observing the Torah, we can only rationalize our actions by telling ourselves that it's not important. Then, once we have allowed ourselves to make the Torah so foreign to us and the culture we have chosen to associate ourselves with, eventually we would be disgusted by the Torah ideal. So, if one thinks that casual neglect is not so grave, he should consider the path of continued neglect and see how distanced he could end up from the Torah. Thus, the Tochachah might be a response to casual neglect which escalates to utter disgust.
We might also suggest similarly, that really, it could be that both casual neglect and disgust are working together here, as the "Mi'us" which the Torah mentions is only described in reference to one's relationship with the Chukim which are known as the unexplainable decrees whose rationales only G-d knows. On the other hand, the simple neglect of Mitzvos is something that all of the Mitzvos have in common. The Mitzvos that make sense to us, we obviously don't have contempt for just because we neglect them every now and then. But, where does the contempt for Chukim come from? Is it just because we don't understand them? That's not a reason to become disgusted, is it? However, when we neglect the Mitzvos, it has an impact on us. If it's a Mitzvah we understand, hopefully we'll feel a little guilty. But if it's a Mitzvah that we do not understand—a Chok, then we have feelings of contempt, because we don't understand what exactly we did wrong anyway. In this way, we could suggest that it is the general laxity in Torah that leads us to having disgust for the Chukim, and it is the two forces together that cause the Tochachah.
Either way, these two suggestions are in agreement that really, casualness and disgust are, in fact mutually exclusive, and it is really progression from neglect to disgust that ultimately causes the Tochachah.
However, in light of our understanding of the relationship between Sh'mitah and Torah observance at large, perhaps we can suggest a third possibility, that maybe, quite like Sh'mitah and Torah, here, "Keri" and "Mi'us," casualness and neglect, are one in the same. How could they be one in the same if, as we've argued, the two are basically opposites? You are either casual or you are disgusted, but not both. However, it might depend on what it is we are talking about. Yes, when it comes to packing one's lunch, he either neglected to pack it or purposely did not pack it because he is disgusted by the meal. However, when it comes to Ratzon Hashem, the Mitzvos of Hashem's Torah, although one may think that his casual feeling toward it is benign and innocent—"It's nothing personal. I'd just rather not."—it is, in fact, a flat-out rejection and an expression of disgust for Hashem's Torah. "What do you mean? There are no hard feelings." No! The Mitzvos of Hashem's Torah and their details, as exemplified by Sh'mitah, represent the affirmation that Hashem is in charge of the world, that our lives are in Hashem's hands, and that we are His subjects. Any life lived in opposition to Hashem's Will, even the most casual lifestyle choices against the Torah, is a rebellion and a personal affront to Hashem. Moreover, deep down, it is a latent expression of disgust towards Hashem's decrees. Because if the Mitzvos made total sense to him, then he would actually try with even a little bit of effort. But because he doesn't understand the law system, he not only denies that G-d obligated us to them, but the thought of even doing them becomes a source of disgust. Outwardly, the relationship is casual, but ultimately, G-d recognizes the rejection and utter disgust.
It is obviously our responsibility to take the message of Sh'mitah to heart, understand the sense of G-dly obligation with which we're supposed to observe them, not treat them casually and ultimately reject them, but to subject ourselves to Hashem through them.
May we all be Zocheh to devote ourselves to Ratzon Hashem, truly take His Torah seriously, and we should merit only Brachos in return, and no less, the ultimate Brachah of redemption where all will subject themselves to Hashem in the days of Moshiach, Bimheirah Biyomeinu! Chazak! Chazak! V'Nis'chazeik! (Strength! Strength! And may we be strengthened!) Have a Great Shabbos! (Don't forget to count Sefiras HaOmer.)
-Josh, Yehoshua Shmuel Eisenberg 🙂