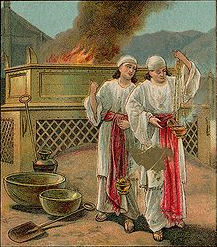 This D'var Torah is in Z'chus L'Ilui Nishmas my sister Kayla Rus Bas Bunim Tuvia A"H, my grandfather Dovid Tzvi Ben Yosef Yochanan A"H,  & my great aunt Rivkah Sorah Bas Zev Yehuda HaKohein in Z'chus L'Refuah Shileimah for:
-My father Bunim Tuvia Ben Channa Freidel
-My grandmothers Channah Freidel Bas Sarah, and Shulamis Bas Etta
-Miriam Liba Bas Devora
-Yechiel Baruch HaLevi Ben Liba Gittel
-Aharon Ben Fruma
-And all of the Cholei Yisrael
-It should also be a Z'chus for an Aliyah of the holy Neshamah of Dovid Avraham Ben Chiya Kehas—R' Dovid Winiarz ZT"L as well as the Neshamos of those whose lives were taken in terror attacks (Hashem Yikom Damam), and a Z'chus for success for Tzaha"l as well as the rest of Am Yisrael, in Eretz Yisrael and in the Galus.
בס"ד
שְּׁמִינִי ~ SH'MINI
"Why and Wine Not"
Wine and (other) intoxicants you shall not drink when you arrive to the Ohel Mo'eid (Tent of Meeting), and you will not die, an eternal decree (statute) for your generations
,
And to separate between holy and mundane, and between (ritually) impure and pure
;
And to teach the B'nei Yisrael all of the decrees (statutes) as Hashem has spoken to them through the hand of Moshe
.
יַ֣יִן וְשֵׁכָ֞ר אַל־תֵּ֣שְׁתְּ ׀ אַתָּ֣ה ׀ וּבָנֶ֣יךָ אִתָּ֗ךְ בְּבֹאֲכֶ֛ם אֶל־אֹ֥הֶל מוֹעֵ֖ד וְלֹ֣א תָמֻ֑תוּ חֻקַּ֥ת עוֹלָ֖ם לְדֹרֹתֵיכֶֽם׃
וּֽלֲהַבְדִּ֔יל בֵּ֥ין הַקֹּ֖דֶשׁ וּבֵ֣ין הַחֹ֑ל וּבֵ֥ין הַטָּמֵ֖א וּבֵ֥ין הַטָּהֽוֹר׃
וּלְהוֹרֹ֖ת אֶת־בְּנֵ֣י יִשְׂרָאֵ֑ל אֵ֚ת כָּל־הַ֣חֻקִּ֔ים אֲשֶׁ֨ר דִּבֶּ֧ר ה׳ אֲלֵיהֶ֖ם בְּיַד־מֹשֶֽׁה׃ (פ)
Wine and (other) intoxicants you shall not drink when you arrive to the Ohel Mo'eid (Tent of Meeting), and you will not die, an eternal decree (statute) for your generations
,
And to separate between holy and mundane, and between (ritually) impure and pure
;
And to teach the B'nei Yisrael all of the decrees (statutes) as Hashem has spoken to them through the hand of Moshe
.
יַ֣יִן וְשֵׁכָ֞ר אַל־תֵּ֣שְׁתְּ ׀ אַתָּ֣ה ׀ וּבָנֶ֣יךָ אִתָּ֗ךְ בְּבֹאֲכֶ֛ם אֶל־אֹ֥הֶל מוֹעֵ֖ד וְלֹ֣א תָמֻ֑תוּ חֻקַּ֥ת עוֹלָ֖ם לְדֹרֹתֵיכֶֽם׃
וּֽלֲהַבְדִּ֔יל בֵּ֥ין הַקֹּ֖דֶשׁ וּבֵ֣ין הַחֹ֑ל וּבֵ֥ין הַטָּמֵ֖א וּבֵ֥ין הַטָּהֽוֹר׃
וּלְהוֹרֹ֖ת אֶת־בְּנֵ֣י יִשְׂרָאֵ֑ל אֵ֚ת כָּל־הַ֣חֻקִּ֔ים אֲשֶׁ֨ר דִּבֶּ֧ר ה׳ אֲלֵיהֶ֖ם בְּיַד־מֹשֶֽׁה׃ (פ)
Leviticus.10.9-11
     Parshas Sh'mini begins with the climactic yet tragic culmination of the Mishkan's Inaugural ceremony in which Nadav and Avihu, the two oldest sons of Aharon HaKohein, overstep their bounds and lose their lives. Towards the end, Parshas Sh'mini discusses various laws revolving Kashrus (dietary laws) and those of Tumah (spiritual impurity) and Taharah (purity). Now, how did the Torah get from point A to point B? What does Kashrus and ritual purity have to do with the misstep of Nadav and Avihu?
The apparent link between the two discussions is a small passage immediately after the passing of Nadav and Avihu in which Hashem addresses their father Aharon HaKohein. There, Hashem commands Aharon as follows:
"Yayin V'Sheichar Al Teisht Atah U'Vanecha Itach B'Vo'achem El Ohel Mo'eid V'Lo Samusu Chukas Olam L'Doroseichem; U'L'Havdil Bein HaKodesh U'Vein HaChol U'Vein HaTamei U'Vein HaTahor; U'L'Horos Es B'nei Yisrael Eis Kal HaChukim Asheir Diber Hashem Aleihem B'Yad Moshe"-"Wine and (other) intoxicants you shall not drink when you arrive to the Ohel Mo'eid (Tent of Meeting), and you will not die, an eternal decree (statute) for your generations; And to separate between holy and mundane, and between (ritually) impure and pure; And to teach the B'nei Yisrael all of the decrees (statutes) as Hashem has spoken to them through the hand of Moshe" [Vayikra 10:9-11].
In the above passage, Hashem basically forbids intoxication in the Tent of Meeting, and appears to specify three reasons or results of obeying such a command; firstly, that they don't die, secondly, to differentiate between holy and mundane, as well as spiritual impurity and purity, and finally, to teach the Chukim (decrees or statutes) to the B'nei Yisrael.
Thus, therein, we see the buzzwords for the rest of the Sidrah and really, the subject matter for the next three Parshiyos (from Sh'mini until Metzora), "Tumah" and "Taharah," as we mentioned above. And from this point, the Torah will branch out, for example, to the topic of Kashrus, the idea that certain animals are forbidden for consumption on the basis of their ritual impurity. Only the prescribed pure animals may be consumed.
The question is how "Tumah" and "Taharah" are relevant in Hashem's discussion with Aharon at all. When Hashem mentions that need to decipher between "Kedushah" and "Chulin," holiness and mundaneness, it makes obvious sense because when discussing the holy Avodah in the Mikdash and not desecrating it or making it mundane, we're immediately redirected to the act of Nadav and Avihu which warranted Hashem's meeting with Aharon in the first place. In fact, at least one of the opinions in Chazzal suggests that Nadav and Avihu entered their Avodah intoxicated with wine, and that since they somehow tampered with the sensitive, Kadosh service and treated it casually or mundanely, their lives were taken. But, what does the sensitivity of Kedushah have to do with Tumah and Taharah, purity and impurity? Wine doesn't make people ritually impure.
Another question one might ask regards the third point of Hashem's apparent discussion with Aharon. What does the prohibition of wine consumption in the Mikdash have to do with teaching Hashem's Chukim to the B'nei Yisrael. The Chukim, translated commonly as either decrees or statutes, always refer to the commandments whose reasons are seemingly illogical and unknown to mankind. Now, is it such an enigma that the Torah forbids becoming intoxicated or even getting close to intoxication just before one enters to perform the ritual service? Is this law not a no-brainer? If a person is even slightly under the influence of alcohol when performing the Avodah, not only is it disrespectful, but one risks making a mistake and messing up the entire Avodah! And if Nadav and Avihu were literally drunk during their service, it makes sense that they were punished. So, how does this prohibition convey the lesson of Hashem's Chukim, the laws which we don't understand?
In order to answer all of the above questions, we might have to evaluate the Torah's attitude toward wine. Is wine a good thing or a bad thing? From this prohibition, it would seem like a bad thing. In fact, throughout Tanach and Chazzal, there are several instances and teachings which point at the negative side of wine, whether we're talking about Noach, Lot and his daughters, the Sotah (adulterous wife), and others who all apparently sin as a result of drinking wine. Yet, we know that wine is a fundamental component for positive, holy services, for example, Kiddush—sanctification of Shabbos and Yom Tov, and other such occasions. In fact, wine plays a role in many Mitzvos. So, which one is it? And what is it about wine that it is prohibited in this instance?
Regarding how wine can be considered a bad thing, and certainly in the context of Nadav and Avihu, it's not so difficult at all. It may be explained just as just we have suggested—that intoxication during ritual service is either disrespectful or even dangerous to the service.
But, then there are two other questions to consider. Firstly, what about the many Mitzvos that involve consumption of wine? Aren't we worried about intoxication?
Moreover, it is not universally accepted among Chazzal that Nadav and Avihu were even intoxicated in the Tent of Meeting. The simple reading of the text only tells us that they brought a foreign fire before Hashem. So, if they weren't even intoxicated, then, why is wine the subject of Hashem's discussion with Aharon here at all?
In this light, we could suggest that whether or not wine was the actual contaminant in the misdeed of Nadav and Avihu, it may represent an important symbol of the root problem with their conduct.
Wine is a powerful stimulant which may be used when, apparently, Ratzon Hashem (Will of Hashem) desires that an Avodah be carried out with a measure of man-powered Simchah, or personal happiness and emotion. Thus, it says in Tehillim [104:15], "V'Yayin Yisamach Levav Enosh"-"And wine gladdens the heart(s) of mortal man." There are contexts where man not only may, but is encouraged, to afford himself this subjective joy for the sake of something greater, like Shabbos, or celebrating a wedding, or saying grace to Hashem. And even so, in all of these contexts, one has to be careful not to fall into intoxication and subsequent sin.
Either way, while yes, in many ways, wine and other Kosher stimulants, whether physiological or even completely intangible, can be used to stir our emotions amidst our celebration of our relationship with Hashem, it is not no holds barred.
But with this banning of wine during the Avodah BaMikdash, the Torah warns us that there are times where our own emotional stimulation cannot be factored in to the performance of His Will, and that perhaps, in their essence, all Avodos are fundamentally dissociated from our emotions. In other words, while emotion is crucial, when it comes down to it, our emotional stimulation and feelings are not what matters most, and it is our adherence to the strict letter of the law that Hashem demands. Yes, as a rule, Chazzal teach us "Rachmana Liba Ba'i"-"The Merciful One wants the heart" [Sanhedrin 106B], and Tehillim writes [100:2], "Ivdu Es Hashem B'Simchah"-"Serve Hashem with happiness," however, none of these "rules" are employed at the expense of the fundamental command of G-d itself. And when the law and one's feelings are at odds, it is one's personal feelings that must be curbed. Even if it disagrees with our own logic, even if we cannot understand it, and even hate the commands and they make us upset, Chas Va'Shalom (G-d forbid), we cannot turn away from them, because in the end, our judgment, like that of a drunkard, is essentially skewed, and only Hashem knows best.
This sensitive boundary, in essence, was crossed by Nadav and Avihu, who, with whatever action it was, acted in accordance with their own subjective, and ultimately incorrect, understanding of what would be a proper Avodah. Sure, not being drunk when doing the Avodah makes sense to us. We get that. But, what if the Torah said something that we didn't understand? The concept of intoxication does not merely refer to drinking wine, but above all else, it represents doing anything that will appeal to our own skewed judgment and emotions, despite it being explicitly against the will of the Torah. That was the mistake of Nadav and Avihu—they were inspired by something, but not by Divine Will.
But not only was it the mistake of Nadav and Avihu, but it is the basis for all of the Chukim, the decrees. It is the basis for the discussion of Tumah, Taharah, and all of the rules of Kashrus. All of these topics fall under the rubric of Chukim, those topics that we just don't understand. We can know the technical laws regarding which animal is Kosher for consumption and which ones are not. We can learn under which circumstances Tumah is contracted between objects. We can decipher between Tumah and Taharah, but we can't actually observe Tumah empirically or run experiments to manipulate Tumah. We will never actually understand why it works that way. This truth holds for all Chukim. They do not appeal to us the way wine does. They do not always feel right. They do not always inspire us. Sometimes, they even seem irrational. But, they are not just the law, but Hashem's law which is not negotiable, neither with our emotions or even our best judgment and conception and rationality.
At the end, with the symbol of wine, we can understand that sometimes, we don't understand. And that's okay. That's the most appropriate beginning of our submission to Hashem's Will. And when we're humble enough to submit ourselves to the unknowable truth of Hashem's Torah, we can approach the Chukim and meet with Hashem in our own way to perform our respective Avodos.
May we all be Zocheh to humbly and faithfully accept Hashem's Torah, follow it to our utmost ability, and Hashem should accept our Avodah favorably, allow us to enter into His holy inner chamber to experience His Presence once again with the coming of Moshiach, Bimheirah Biyomeinu! Have a Great Shabbos! (Don't forget to count Sefiras HaOmer.)
-Josh, Yehoshua Shmuel Eisenberg 🙂