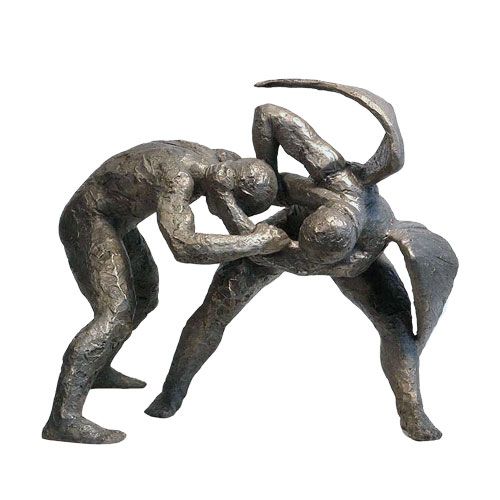 This D'var Torah is in Z'chus L'Ilui Nishmas my sister Kayla Rus Bas Bunim Tuvia A"H & my grandfather Dovid Tzvi Ben Yosef Yochanan A"H & in Z'chus L'Refuah Shileimah for:
-My father Bunim Tuvia Ben Channa Freidel
-My grandmother Channah Freidel Bas Sarah
-My great aunt Rivkah Bas Etta
-Miriam Liba Bas Devora
-Aviva Malka Bas Leah
-And all of the Cholei Yisrael
-It should also be a Z'chus for an Aliyah of the holy Neshamah of Dovid Avraham Ben Chiya Kehas—R' Dovid Winiarz ZT"L as well as the Neshamos of those whose lives were taken in terror attacks (Hashem Yikom Damam), and a Z'chus for success for Tzaha"l as well as the rest of Am Yisrael, in Eretz Yisrael and in the Galus.
בס"ד
 וַיִּשְׁלַח ~ Vayishlach
"Choosing Your Battles"
Vayishlach is known for long-awaited and climactic reunion between the feuding brothers, Yaakov Avinu and Eisav HaRasha. At this point, the wicked Eisav harbors hatred for Yaakov as Yaakov had "stolen" the birthright and prized blessings years earlier. As such, Yaakov is preparing for this confrontation by taking military precautions with his family, praying to G-d, and even arranging a peace tribute of many animals for Eisav [Rashi to 32:9 citing Tanchuma Yashan 6]. Clearly, Yaakov doesn't know what to expect. He may be entering a war or a peace treaty.
While it could go either way, the tension in the air can be felt. Yaakov is anticipating the worst—the wrath of a vengeance-seeking, evil twin brother and his army. However, when the Torah actually reaches that fateful showdown and Yaakov and Eisav's eyes meet, with an astonishing twist to the story, Eisav runs toward Yaakov and not only embraces his brother, but kisses him, as he his apparently overwhelmed by Yaakov's complete submission before him. It's not merely the gifts that Yaakov presents before Eisav that wins him over. Yaakov takes his attempt to appease Eisav so far that he refers to Eisav as his master, refers to himself as Eisav's servant, and even bows to him several times.
One question that one might ask on Yaakov's tactics is why Yaakov lowered himself so much. Is he just desperate to appease Eisav? If that's true, then would he not have gone that far? Because the whole bowing to his brother does seem like a little much. It's almost looks like he's presenting Eisav as a deity. Is avoiding a beating worth that much that he had to give himself over to Eisav's mercy like this? Is that the correct thing to do? What happened to fighting for what's right? Did Yaakov's cause not represent the Will of G-d? In fact, Eisav was the one who didn't care about that which is religious and sacred. So, why did Yaakov put so much out for his wicked brother Eisav?
It seems unlikely that we could merely pin Yaakov as a coward or pacifist. While at the big faceoff, Yaakov circumvents the fight by all means, just earlier in the story, the Torah describes how Yaakov spends the whole night, from dusk until dawn, fighting with a mysterious man whom Chazzal identify as Eisav's guardian angel [32:25, See Rashi there citing Bereishis Rabbah 77:3, 78:3]. Yaakov doesn't only fight that battle with a seemingly complete stranger, but he wins when the angel calls the fight off. Yaakov doesn't just lie down for the angel. Yaakov definitely proves himself capable fighter. If we need any further indication of Yaakov's family's finesse in battle, we need look further in the Sidrah than the damage his sons Shimon and Levi do in Shechem [Bereishis 34]. Apparently, Yaakov purposely chooses not to exact such tactics altogether when he's with Eisav. Apparently, he's not merely afraid of losing a fight. On the contrary, Chazzal say that while on some level, yes, Yaakov didn't want to die, but he was equally distressed about the idea of having to kill others, even his evil brother Eisav [See Rashi to 32:8 citing Tanchuma 4, Bereishis Rabbah 76:2]! In other words, Yaakov was equally afraid of winning the fight! But, why? If Eisav intends to kill him, killing him back would be an appropriate and acceptable response, even according to Torah values.
Further evidence that Yaakov was not just putting on a show to save himself from a fight and that he was genuinely humbling himself before Eisav is that he even utters the words [33:11], "Kach Na Es Birchasi"-"please [now] take my blessing," which sounds like Yaakov was actually alluding to the "blessing" which he won from their blind father Yitzchak Avinu. That being said, it sounds as if Yaakov was trying to undo the "effects" of the "blessings" and "return" the bounty to Eisav. Does this strike anyone as a bit strange and incorrect of Yaakov to do? Even if we can question the controversial way in which Yaakov got the blessings, would we not say that at the end of the day, Yaakov truly was the man who deserved them? If so, why would Yaakov, so late in the game, agree to offer them back? Despite the fact that Eisav spurned the birthright and showed a complete disregard for his family's spiritual mission, that's exactly what Yaakov seems to do. He gives all of his own "earnings" back and agrees to be subservient to his brother. Despite the fact that his mother Rivkah Imeinu took the risk and deliberately set him up to basically save the family's spiritual legacy, it seems as though Yaakov is willing to just go back on all of that. Could all of that just have been for the sake of avoiding a beating from his older brother? Is this exchange not like throwing away the birthright for a bowl of lentils! Doesn't Yaakov appreciate the meaning behind the blessings? Doesn't Yaakov know that is fighting for G-d's sake? Did Yaakov no longer believe that he was supposed to be the spiritual successor to his family? Did Yaakov, all of sudden, believe that Eisav was fitting for the blessings? It can't be, yet Yaakov doesn't appear to be playing games. From the context, it sounds like he means it.
Once we've established that Yaakov is not merely "afraid of the fight," we have the question as to why he apparently avoided the fight at all costs and even offered back his "blessing." If Yaakov fought off an angel, a divine, spiritual being who is apparently representative of Eisav's inner essence—whether by sheer willpower, skills, Divine Providence, or some combination of all of these things, we know that Yaakov was capable. So, what is happening in this Sidrah, when on the one hand, Yaakov fights all night with an angel, while on the other hand, Yaakov bends over backwards, and literally forwards, to withhold from fighting with Eisav?
The answer is that Yaakov was doing what is known as "choosing his battles," in this case, both figuratively and literally. When we, today,  talk about "choosing our battles," what we mean is that many times, it's really not always worth it to fight. It means that sometimes, it's okay not to lower ourselves and not "win." It means that sometimes, "losing" one battle can help us win the larger war. So, what exactly is Yaakov doing?
Yaakov is methodically deciding to fight not only when necessary, but when the fight is truly worth fighting for. If this is true, what then is the difference between the battles Yaakov chooses to dirty himself in, and those which he chooses to avoid? Which battle is truly worth fighting for? Are his blessings and spiritual legacy not worth fighting for? He seems to give those away and accept the loss…or does he?
Yes, his spiritual legacy is certainly worth fighting for, but who says that this spiritual legacy is what Yaakov was giving away? Notice how Yaakov, at no point, addresses the idea of who will inherit their father, or Hashem's Promised Land. Yaakov spent years building up his spiritual legacy in his family when he raised them in Charan. The legacy of following in the footsteps of their father Yitzchak Avinu, and their grandfather Avraham Avinu according the Will of G-d was not what Yaakov was giving up. We know that Yaakov did not sacrifice his spiritual role as a servant of G-d as it is Yaakov who continues to be the main hero of our story, Yaakov who builds the B'nei Yisrael, Yaakov's children who eventually accept the Torah. What, then, was he giving up?
All of the gifts Yaakov offers to Eisav are purely physical and materialistic. Cattle, sheep, camels, donkeys—that's how Yaakov wins Eisav over. Calling Eisav "my master" and giving him "elderly" Kavod (honor) by bowing to him—that's what Eisav wants the whole time. He wanted to "win." Yaakov doesn't care about these things. That's why Yaakov parts with it so easily and is even ready to lower himself.
This all sounds nice, but didn't Yaakov tell him "please take my blessing"? Was he not apparently undoing Rivkah's efforts in winning him the spiritual inheritance? What does Yaakov mean when he says "take my blessings"?
The answer to this question is that in fact, Yaakov used these words to indicate that what he saw in the blessings was not what Eisav saw in the blessings. While Yaakov saw the spiritual meaning and depth of the blessings—which was why he agreed, for G-d's sake, to listen to his mother and take them in the first place—Eisav, on the other hand, saw the blessings as a means to achieving material bounty. Says Yaakov Avinu, "Eisav, if this is all the blessing meant to you, than that, you can take back. Take my sheep and cattle. Take the Kavod. You can have that. I don't want that." For Yaakov, a war over material wealth and honor is a war which is not worth fighting. Therefore, there is just no competition here. What Eisav truly wants, Yaakov doesn't care for, and vice versa. They're not competing for the same goal. So, why fight? Eisav can have the physically appealing stuff. That's why Yaakov is confidently able to proclaim [33:11], "Yesh Li Chol"-"I have everything [I need]," that the bounty is meaningless, whereas Eisav can only say "Yesh Li Rav"-"I have plenty" meaning that while there is a lot on his plate, there is always room for more.
Yaakov chooses not to fight this war with Eisav, but as was mentioned earlier, he does engage in a long fight with the angel. Why is this battle with the angel a battle that Yaakov chooses to participate and not just give up? Because the battle with this angel concerned his spirituality destiny. This battle, whether physical, allegorical, or spiritual was a war effort that Yaakov needed to engage in because it represented Yaakov as G-d's spiritual champion against—not Eisav, his human brother—but Eisav's angel and spiritual essence which stood against everything Yaakov believed in. Yaakov could relinquish hundreds of sheep and cattle, and even his own dignity to Eisav. It wasn't the sheep, cattle and glory of being "firstborn" that Yaakov cared to win years ago. It wasn't just the bounty that Rivkah tried to snatch for Yaakov. Those things are not worth the hassle. Yaakov would forgo all of that, but not his spiritual identity. It is thus in this battle with the angel that Yaakov earns his name "Yisrael," which highlights Yaakov's ability to maintain and fight for his spiritual identity—to fight for G-d, to fight for what's true, what's moral, and what's right. That's who Yaakov was. And by accepting a "loss" in the battle over material wealth and glory, Yaakov was able to "win" the larger war over what mattered worlds more, his spiritual essence and role as a servant of G-d.
In the end, there is much to learn from Yaakov Avinu's encounters with the divine and with man. As the forefather of the B'nei Yisrael, he teaches us when to suck in our pride and submit, when to break a sweat and fight, when to engage in battle and when not, and how to truly win the war. The secret is to choose your battles wisely.
May we all be Zocheh, with Hashem's help, to choose our battles wisely, know what's worth fighting for and what's not, how to engage in those battles properly, ultimately win the spiritual war, become Hashem's champions as we, the B'nei Yisrael, are destined to be, and Hashem should acknowledge our triumph with the bringing of the Geulah in the days Moshiach, Bimheirah Biyomeinu! Have a Great Shabbos!
-Josh, Yehoshua Shmuel Eisenberg 🙂