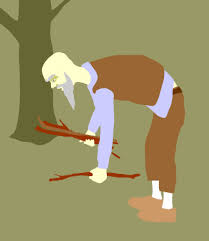 This D'var Torah is in Z'chus L'Ilui Nishmas my sister Kayla Rus Bas Bunim Tuvia A"H & my grandfather Dovid Tzvi Ben Yosef Yochanan A"H & in Z'chus L'Refuah Shileimah for:
-My father Bunim Tuvia Ben Channa Freidel
-My grandmother Channah Freidel Bas Sarah
-My great aunt Rivkah Bas Etta
-Miriam Liba Bas Devora
-Aviva Malka Bas Leah
-And all of the Cholei Yisrael
-It should also be a Z'chus for an Aliyah of the holy Neshamah of Dovid Avraham Ben Chiya Kehas—R' Dovid Winiarz ZT"L, Chaim Reuvein Ben Mordechai A"H, and a Z'chus for success for Tzaha"l as well as the rest of Am Yisrael, in Eretz Yisrael and in the Galus. We all need Moshiach now, please.
Once, when the Israelites were in the wilderness, they came upon a man gathering wood on the sabbath day.
Those who found him as he was gathering wood brought him before Moses, Aaron, and the whole community.
He was placed in custody, for it had not been specified what should be done to him.
Then the LORD said to Moses, "The man shall be put to death: the whole community shall pelt him with stones outside the camp."
So the whole community took him outside the camp and stoned him to death—as the LORD had commanded Moses.
וַיִּהְי֥וּ בְנֵֽי־יִשְׂרָאֵ֖ל בַּמִּדְבָּ֑ר וַֽיִּמְצְא֗וּ אִ֛ישׁ מְקֹשֵׁ֥שׁ עֵצִ֖ים בְּי֥וֹם הַשַּׁבָּֽת׃
וַיַּקְרִ֣יבוּ אֹת֔וֹ הַמֹּצְאִ֥ים אֹת֖וֹ מְקֹשֵׁ֣שׁ עֵצִ֑ים אֶל־מֹשֶׁה֙ וְאֶֽל־אַהֲרֹ֔ן וְאֶ֖ל כָּל־הָעֵדָֽה׃
וַיַּנִּ֥יחוּ אֹת֖וֹ בַּמִּשְׁמָ֑ר כִּ֚י לֹ֣א פֹרַ֔שׁ מַה־יֵּעָשֶׂ֖ה לֽוֹ׃ (ס)
וַיֹּ֤אמֶר יְהוָה֙ אֶל־מֹשֶׁ֔ה מ֥וֹת יוּמַ֖ת הָאִ֑ישׁ רָג֨וֹם אֹת֤וֹ בָֽאֲבָנִים֙ כָּל־הָ֣עֵדָ֔ה מִח֖וּץ לַֽמַּחֲנֶֽה׃
וַיֹּצִ֨יאוּ אֹת֜וֹ כָּל־הָעֵדָ֗ה אֶל־מִחוּץ֙ לַֽמַּחֲנֶ֔ה וַיִּרְגְּמ֥וּ אֹת֛וֹ בָּאֲבָנִ֖ים וַיָּמֹ֑ת כַּאֲשֶׁ֛ר צִוָּ֥ה יְהוָ֖ה אֶת־מֹשֶֽׁה׃ (פ)
Once, when the Israelites were in the wilderness, they came upon a man gathering wood on the sabbath day.
Those who found him as he was gathering wood brought him before Moses, Aaron, and the whole community.
He was placed in custody, for it had not been specified what should be done to him.
Then the LORD said to Moses, "The man shall be put to death: the whole community shall pelt him with stones outside the camp."
So the whole community took him outside the camp and stoned him to death—as the LORD had commanded Moses.
וַיִּהְי֥וּ בְנֵֽי־יִשְׂרָאֵ֖ל בַּמִּדְבָּ֑ר וַֽיִּמְצְא֗וּ אִ֛ישׁ מְקֹשֵׁ֥שׁ עֵצִ֖ים בְּי֥וֹם הַשַּׁבָּֽת׃
וַיַּקְרִ֣יבוּ אֹת֔וֹ הַמֹּצְאִ֥ים אֹת֖וֹ מְקֹשֵׁ֣שׁ עֵצִ֑ים אֶל־מֹשֶׁה֙ וְאֶֽל־אַהֲרֹ֔ן וְאֶ֖ל כָּל־הָעֵדָֽה׃
וַיַּנִּ֥יחוּ אֹת֖וֹ בַּמִּשְׁמָ֑ר כִּ֚י לֹ֣א פֹרַ֔שׁ מַה־יֵּעָשֶׂ֖ה לֽוֹ׃ (ס)
וַיֹּ֤אמֶר יְהוָה֙ אֶל־מֹשֶׁ֔ה מ֥וֹת יוּמַ֖ת הָאִ֑ישׁ רָג֨וֹם אֹת֤וֹ בָֽאֲבָנִים֙ כָּל־הָ֣עֵדָ֔ה מִח֖וּץ לַֽמַּחֲנֶֽה׃
וַיֹּצִ֨יאוּ אֹת֜וֹ כָּל־הָעֵדָ֗ה אֶל־מִחוּץ֙ לַֽמַּחֲנֶ֔ה וַיִּרְגְּמ֥וּ אֹת֛וֹ בָּאֲבָנִ֖ים וַיָּמֹ֑ת כַּאֲשֶׁ֛ר צִוָּ֥ה יְהוָ֖ה אֶת־מֹשֶֽׁה׃ (פ)
Numbers.15.32-36
While the major tragedy and sin of Parshas Shelach is undoubtedly found in the story of the Miraglim, the spies who "slander" Hashem's Promised Land [B'Midbar 13-14], there is another tragic narrative which is recorded towards the end of the Sidrah which also contains a capital crime. The narrative in question would be that of the M'Kosheish Eitzim, the short story of the mysterious "wood gatherer," who apparently was collecting sticks on Shabbos, violating the Shabbos "rest" from creative activities [15:32-36].
The story is rather challenging to wrap one's head around simply because there is not a lot of textual substance to it. Moreover, we're not given the identity of this wood gatherer, or any real context to this apparent desecration of Shabbos. In the Gemara's interpretation of the story, it's not even clear exactly which forbidden activity this man had committed, though the Sages suggest a few possibilities [Shabbos 73B, 96B]. All we know is that the B'nei Yisrael found him collecting sticks on Shabbos, imprisoned him while Moshe consulted Hashem for the final verdict, and subsequently stoned him to death according to G-d's command. Given that little information though, the simple issues that one has to wonder about are, firstly, what the deeper meaning of this account is, and why it was placed at this seemingly random point in Shelach. What bearing does the account of the M'Kosheish Eitzim have on the larger context?
In truth, one cannot fully appreciate or understand the story of the wood gatherer without analyzing it in conjunction with its parallel brother-narrative, the almost equally ambiguous account of the M'Kaleil, the blasphemer or the curser, recorded earlier in Parshas Emor [Vayikra 24:10-22].
While there are some major differences between the two stories, the textual and thematic parallels between account of the M'Kosheish Eitzim and the earlier account of the M'Kaleil are unmistakable. Both stories record a public sin of an unnamed individual. In both stories, the nation does not know what to do with the sinner, so they place him in custody until Moshe returns with the verdict. Both sinners are ultimately sentenced to stoning.
So as we digress for a bit to consider story of the man who cursed G-d's Name (which certainly deserves its own discussion), if one looks at the story's text, one will see that it starts with a half-Israelite half-Egyptian man, the eventual culprit, who "goes out," and ends up in a fight with an Israelite. The Torah does not specify who started the fight. Amidst this fight though, the half-Israelite half-Egyptian man curses G-d's Name, whereupon the people imprison him.
What is hinted to in the select background details of the story is that there was a precursor to the sin of the curser. Apparently, his Egyptian roots are significant to the account, and apparently, the fight he ended up in, as well, is significant to the account. Without any further information, it would seem that this individual's roots made him somewhat of an outsider, and his impression as an outsider got him into some unpleasant confrontation with the "normal" Israelite. One thing led to another, and he ended up cursing G-d.
This suggestion is not so far off from that which Chazzal have said about his story. One of the explanations of this story was that the half-Israelite half-Egyptian man was looking for encampment among the tribes of Israel, though, by law, he was not entitled to it as his father was Egyptian [Rashi citing Toras Kohanim 14:1, Tanchuma 24, and Vayikra Rabbah 32:3]. He was legally denied the entitlement, and thus the fight broke out. Now, just because he was not legally entitled to the tribal encampment did not mean that he had to be ostracized entirely. It did not mean that there had to be a fight. It didn't have to lead to him cursing G-d's Name. Was he culpable for cursing G-d? Indeed, and he was executed for it, but was he the only one to blame? It doesn't seem that way from the story. He didn't seem to be a pure hater of G-d. He was in a fight with an Israelite, one of "G-d's children." Perhaps more brotherly treatment, some hospitality maybe, from the "in-group" of Israelites would have prevented the public desecration of Hashem's Name. All he might've wanted was a place among his people, but he was forced outside the congregation; they drove him away.
Fast-forward to Shelach where we have out scene of the M'Kosheish Eitzim, a similar but very different story. We have no personal background to the Shabbos desecrator. There is no differentiation made between him and his people. No one is isolated or ostracized here. A simple (presumably Israelite) man, gathering wood is all. He was not the subject of any national discrimination. Of course though, from a religious and Torah observant perspective, the people are up and arms against him. He is breaking Shabbos! But that's about all we know in this story.
The tragedy of the M'Kaleil is almost unquestionably one about the collective failure of many people in dealing with a half-foreigner's attempt at gaining national identity. The moral of that story is readily felt. But we don't have as colorful a context here, for the wood gatherer, as we do for the curser. It's an unfortunate situation, but it's simple. The wood gatherer was breaking Shabbos. Moral of the story: Keep the Shabbos. Is that it?
According to the Ramban and others, one might suggest not. The story might have a deeper message. The account of the wood gatherer is, according to some, actually a part of the fallout of the larger story in Shelach, the story of the Miraglim (although Rashi and Sifrei 113 assume otherwise).
When it comes to the larger context of Shelach and the story of the Miraglim, we're looking at a dejected people who have heard their greatest nightmare come true. When the Spies returned from the Promised Land, reporting that the land would be impossible to conquer by natural means, there was national hysteria. Everyone panicked and complained. They despaired for the worst, and completely lost faith in G-d. As a result, G-d stripped the entire generation of the great privilege of one day entering the Promised Land. They were condemned to forty years of wandering in the desert until the whole generation died there. Hopefully, one day, their children would enter the Promised Land. Hopefully now, the people would stop questioning Hashem's faithfulness.
And at this point, explains the Ramban, is where he Torah opens the scene for the M'Kosheish Eitzim [15:32]; "Vayehiyu B'nei Yisrael BaMidbar…"-"And the B'nei Yisrael were in the desert…"—it happened as they proceeded to wander in the desert—"…Vayimtzi'u Ish M'Kosheish Eitzim B'Yom HaShabbos"-"…and they found a man gathering wood on the day of Shabbos."
So, what is happening? They found a man? Was he a fellow Israelite? The story wouldn't make sense otherwise—no other nation was commanded to keep Shabbos, but then why does the Torah not identify him? He's just an "Ish," a random "man." Moreover, why does the Torah say that they "found" him? If he was regular Israelite among them, he shouldn't be so hard to find. The Torah should say that they "saw" him. It's strange to say that they found him, unless, of course, he wasn't a regular Israelite right there among them. Now, what could that mean? We said that he has to be an Israelite! Yes, but perhaps he no longer identified himself that way. He might've dissociated himself from the group and wandered away, which would certainly explain why the Torah says that they "found" him. He was away from them, and they somehow found him elsewhere.
Now, what was this person thinking? Why is he gathering wood now? It is unclear what his true motivation was, and one can use his imagination to figure out what a man by himself might want to do with a bunch of sticks. But, whatever it was he needed them for, was it worth it to intentionally break Shabbos and be sentenced to death? Indeed, it was certainly known at the time that intentionally disgracing Shabbos is punishable by death sentence. True, the Torah says that the B'nei Yisrael didn't know what to do with him, but they did know that he was liable to death [based on Ki Sisa 31:14-15]—they just didn't know which particular death penalty he was liable for [Rashi citing Sifrei 114, Sanhedrin 78B]. Moreover, we know that this wood gatherer also knew well that he would be liable to death—Chazzal say that the B'nei Yisrael warned him and he apparently accepted it [Rashi citing Sifrei 113, Sanhedrin 48A]. Without having consciously accepted a warning, everyone agrees that he would not have been liable to death. Apparently, he didn't care. Apparently, he forfeited his life. But, why?
There is another occurrence elsewhere in Tanach where we have this rare expression of "gathering wood." In the times of King Achav and Eliyahu HaNavi, the Navi tells us about an unnamed widow who was collecting sticks [Melachim Aleph 17:8-16], but there, the feminine expression, "M'Kosheshes Eitzim" is used.
Like the M'Kosheish Eitzim in our story, the female M'Kosheshes Eitzim, or the "wood gather-ess" (if you will) was living in a condemned generation. Her generation had no food or water as a result of the drought decreed by Eliyahu HaNavi (as the masses were guilty of idolatry). This widow explained to Eliyahu that she was using the sticks, probably to make a fire, to prepare her presumed last meal for herself and for her son. She was expressly ready and expecting to die. She had absolutely no hope (until Eliyahu made a miracle to grant her sustenance).
One might suggest that the individual in our story was suffering from a similar fate. Where was he wandering off to? Why is he away from the people? Why is forfeiting his life? Assuming that this story takes place here where it was recorded, perhaps one can say that he wanted no part with the hopeless, condemned people. If he's going to die in the desert anyway, why would it matter when and how he dies? He would never see the Promised Land anyway. Perhaps, he was upset with G-d, so at that point, who cares about the Israelite mission? Who cares about "being Jewish"? Who cares about keeping Shabbos? If he's going to die in the desert anyway, who cares about life altogether?
Accordingly, it seems that if M'Kaleil, the curser from Sefer Vayikra, abandoned G-d because he was upset with the people, the M'Kosheish abandoned the people because he was upset with G-d.
The narrative of the dispirited wood gatherer, in this light, is all the more tragic, and might leave us with a disheartening question, the question of the M'Kosheish: What point really is there? We try to have faith in G-d's Providence and the coming of redemption, but we don't truly know when that might come. We don't know when we'll see the Promised Land with Hashem's Presence again. Are we then aimlessly wandering in a desert our whole lives? The generation of the Spies was told that it was the end. Forty years of wandering. What kind of hope does that leave anyone? Why shouldn't everyone just give up?
But, apparently, not everyone gave up. There was a M'Kosheish Eitzim who checked out of life, but the rest of the B'nei Yisrael stuck together and stood up for Shabbos when it was being violated. In a condemned generation, where did that dedication come from?
Obviously, the M'Kosheish Eitzim made the wrong decision. The answer of the M'Kosheish should have been the opposite. Despair was the very failure of the Miraglim. They thought that because the situation looked unfortunate that they should forgo G-d's command and forfeit everything. That kind of attitude was what caused their sentence to exile in the desert. Only because of that despair did they fail to reach the Promised Land and be protected by G-d. So, what should an individual in a condemned generation do? The answer is to stick together with the nation. The answer is to realize that regardless of what we know about the situation—whatever it may be, we cannot give up on protecting our covenant with G-d. Suppose we don't merit the experience of the full redemption as soon as we hope to, G-d forbid, that does not exempt us from G-d's mission and that does not mean that we have no more responsibilities as Jews. Suppose we die trying to fulfill Hashem's Will, it's better than dying because one gave up on Hashem's Will.
But it's more than that. It's not just a matter of "Do it because you have to, even if it gets you nowhere." What did the entire nation see—in the bad way that they were in—that they were bothered by this man's desecration Shabbos? Perhaps they realized that even in this world, a barren desert, in the world of exile, there is a purpose for their effort. Perhaps they realized that when they stick together as a people and follow the Will of Hashem properly, they will always have a connection to eternality. Shabbos, specifically, we're taught, is a semblance of the World to Come—a semblance of redemption. Shabbos serves this purpose because it is our weekly reminder of Who runs the show. Shabbos serves this purpose because it provides spiritual rest to our people, instilling hope in our people, reminding us collectively that no matter what happens, we have an eternal covenant with Hashem, and as result, an ultimate redemption will come, one day. It reminds us that even in exile, we can connect to our eternal destiny.
We recall the generation of the Spies in our liturgy every Shabbos; "Arba'im Shannah Akut B'Dor V'Omar Am To'ei Leivav Heim V'Heim Lo Yad'u Dirachai; Asheir Nishbati B'Api Im Yavo'un El Menuchasi"-"For forty years I [Hashem] was angry with the generation, then I said, 'They are a nation of straying hearts, and they do not know my ways; Therefore, I have sworn in My anger that they shall not enter My place of contentment" [Tehillim 95:10-11]. On a normal day, that might evoke sad thoughts. But on Shabbos, it is meant to serve as a wakeup call for us to faithfully reconnect ourselves to Hashem. It is a reminder not to give up like the dispirited wood gatherer, but to realize that through our fulfillment of Hashem's Will, through our observance of Shabbos—Yom Menuchah, a day of contentment—we can reconnect ourselves to that "place of contentment," our eternal destiny, once again.
May we all be Zocheh to never lose hope, but rather faithfully devote ourselves to Hashem's service no matter what, and thereby connect ourselves to our eternal destiny, and as a result, Hashem should return us to His Promised Land and grant us the ultimate Geulah with the coming Moshiach, Bimheirah Biyomeinu! Have a Great Shabbos Mevarchim Tamuz!
-Josh, Yehoshua Shmuel Eisenberg 🙂